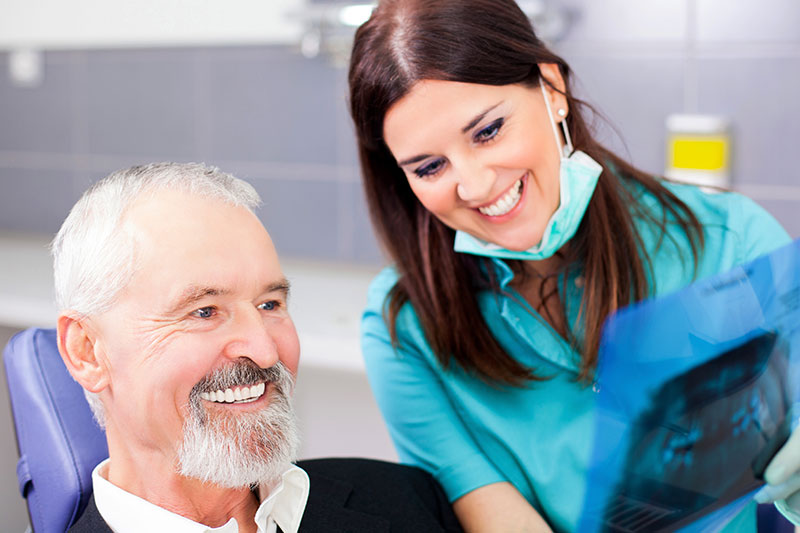 Dental implants are one of the greatest advances in dentistry intended to provide a permanent solution to cases of single or multiple tooth loss. The treatment involves surgical placement of a small titanium post that will bond to the jaw bone, providing a strong anchor for the custom-made crown that will be placed above the gums.
Dental Implants Mid-Wilshire Los Angeles
Implants have become the preferred treatment for patients with missing teeth in Mid-Wilshire Los Angeles because of the high rate of success and long-term results, giving you a similar look, feel, fit, and function as your natural teeth. Martin Allaire, DDS may recommend implants to:
Fill gaps in your mouth after tooth removal to prevent remaining teeth from shifting
Restore optimal speech, chewing, and digestion ability
Restore your smile
Restore or enhance your facial features
Support a denture or bridge for added comfort
Resolve bite problems or joint pain due to shifting teeth
How implants work
Implants comprise artificial roots made from biocompatible materials that fuse with the underlying jawbone to provide stable support for the replacement teeth mounted onto them. Through osseointegration, the bone grows around the implant and combines with it, resulting in an extremely strong bond.
Most patients with healthy gum and bone tissue are good candidates for dental implants. The treatment usually requires multiple visits to the dentist over a period of several months as follows:
First visit: Consultation to determine your suitability for dental implants and tooth/teeth extraction
Second visit: Surgical placement of the implant into the jawbone. Following the procedure, you should change your diet to soft and cold foods and warm soup to facilitate healing. Healing takes several months.
Third visit: Placement of the artificial tooth or teeth onto the implant. During the healing process, Dr. Allaire will customize a new tooth or crown based on the size, shape, fit, and color of adjacent teeth to give you a uniform smile. When replacing multiple teeth, one implant may be used to support multiple bridges or dentures may be used.
For patients with unhealthy natural teeth or multiple missing teeth in an arch, Dr. Allaire may recommend implant placement to anchor bridges and dentures.
Book an appointment today
Most adults who're missing one or more teeth and have healthy bone and gum tissue may be good candidates for dental implants in Mid-Wilshire Los Angeles. Please contact our office in Mid-Wilshire Los Angeles to schedule an appointment with Martin Allaire, DDS to assess your case and determine whether implants are the best treatment for you.